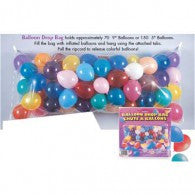 Balloon Drop Bag -a great way to liven up every party.!
It holds approximately 70 x 9" (23 cm) balloons. Balloons are not included.
What a great surprise for your party guests!
(200cm x 90cm)Â Rip cord measures 3 Metres Long
All you need to do is purchase and inflate the balloons

fill the bag with the air inflated balloons and

hang the bag from the ceiling with the attached tabs.

Once you pull the dangling rip-cord the balloons with fall.